What Drawing a Portrait of The President can Earn You.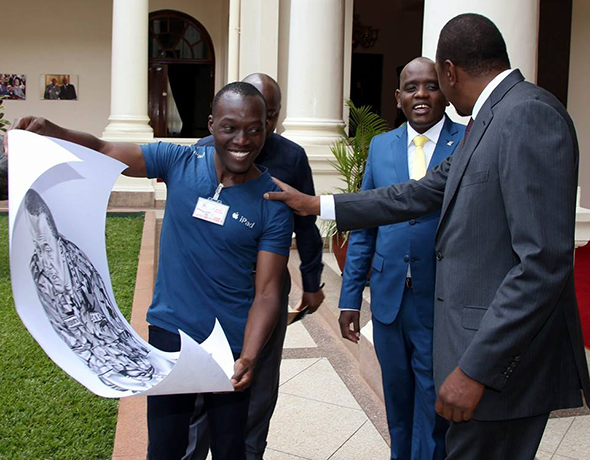 Remember when President Kenyatta adorned full military gear when he went to visit the men in uniform? The media was a buzz but as most of us were busy tweeting our feelings on social media and expressing our thoughts, 24 year old Collins Okello had a different way of expressing just how exciting the president's new attire was to him.
Okello took to drawing President Uhuru in his military uniform and what started as an innocent gesture and a turn to his talent quickly earned him a national accolade in among the weirdest and timely ways. After sitting down to draw the portrait for close to 8 hours, he posted it on his Facebook page and things just went haywire from there. The photo went viral and before Collins knew it, he was getting all kinds of calls from people that wanted to get the portrait. One of those calls was from the president himself.
Collins was requested to visit the statehouse a request that left him sweating ferociously on an otherwise very chilly morning, but he obliged. He got to meet the man on the house at the hill and his talent got him there.