Maina Kageni Man-U Loyalty Finally Pays off Big Time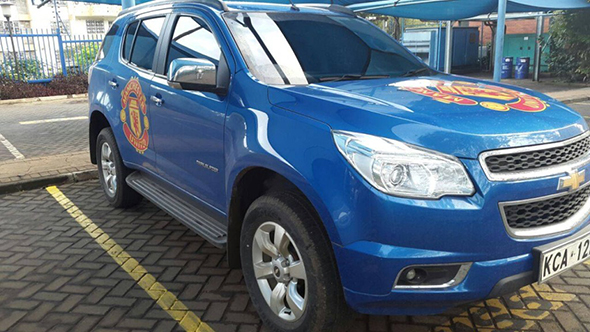 There is a lot that comes with being a man with the same stature that Maina Kageni has. Among them are the opportunity to air among the biggest breakfast shows in the country and being obnoxious without anyone person minding about it. However, there is also more that one can be able to earn with loyalty.
Kageni has been known to be a very outspoken Manchester United fan even right now as the team is facing a rocky patch. However, that has never made him shy away from speaking about his love for the team. So much so that Chevrolet, the company who recently signed a big money shirt sponsorship deal with the big money club hard pressed to give the outspoken radio presenter a present for his loyalty.
They came through and in a big away by awarding Main Kageni with a brand new Chevrolet Trailblazer that had the Man-united logos splashed all over. Maybe it is time we started creating mayhem every time Manchester United makes the news. Who know you might get a car or even a branded jersey in the least.