Here Are 10 Shocking Facts That You Probably Didn't Know About The Garissa University Attack


Kenyans woke up to a rude shock on Thursday when they realized terrorists had struck again. This time things were bloodier and more gruesome than anyone had imagined. In fact the attack has been termed as one of the worst in the history of terror attacks on Kenyan soil. Here are 10 surprising facts that you probably didn't know about the attack.
1. Security guard involvement
A security guard at the university was involved in the planning and execution of the attack. The guard was identified as Osman Ali Dagane of Somali origin and he was in possession of jihadist materials at the time of his arrest.
2. Inadequate security detail
According to reports only 2 guards were on duty at the time of the gruesome assault despite official warnings that an attack was imminent on an institution of higher learning.
3. Arrested suspects
So far Kenyan police have arrested five suspects in connection with Thursday's attack at the Garissa University College.
4. Planned in advance
The attackers seemed to have scouted the campus well before the attack and knew exactly were to head for each coordinated attack. The first to be attacked were Christian Union members who were conducting early morning prayers.
5. Casualties
The Al-Shabaab attack claimed the lives of 147 people, including 142 students, 3 security officers and 2 university security personnel. 104 people were left injured in the attack of whom 19 are still in critical condition. Around 663 students survived the attack but were traumatized beyond words. The entire attack is estimated to have lasted around 12 hours.
6. Preferred method of execution
Most of the victims who died in the attack were shot from close range at the back of the head.
7. Religious background
During the attack Muslims were spared, Non-Muslims were shot on the spot.
8. Grim Public display of bodies
The bodies of the four gunmen who died in the Garissa Attack, were put on public display on Saturday. They were piled on top of each other with their face down in a pickup truck. The grim display was meant to see if anyone could identify them. Crowds jeered and threw stones at the bodies as they passed by. The public positively identified one of the slain gunmen as Abdirahim Mohamed Abdullahi, a graduate lawyer turned terrorist.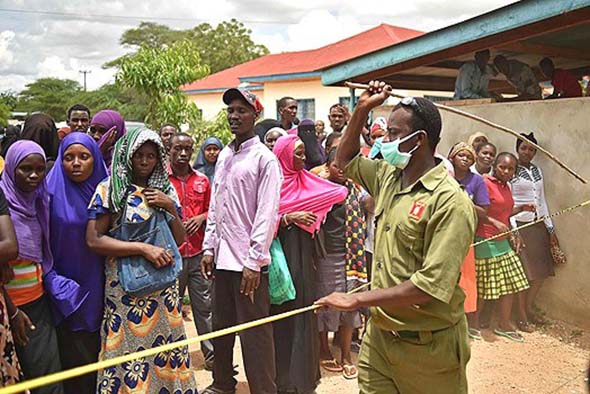 9. Reward for capture
The interior security ministry of Kenya has posted a "most wanted" notice for the man who is said to have been the mastermind behind the attack. A ksh 20 million reward has been offered for his capture. The man goes by the name Mohamed Mohamud, a.k.a Dulyadin or Gamadhere. Interestingly, Gamadhere was once a kenyan school teacher.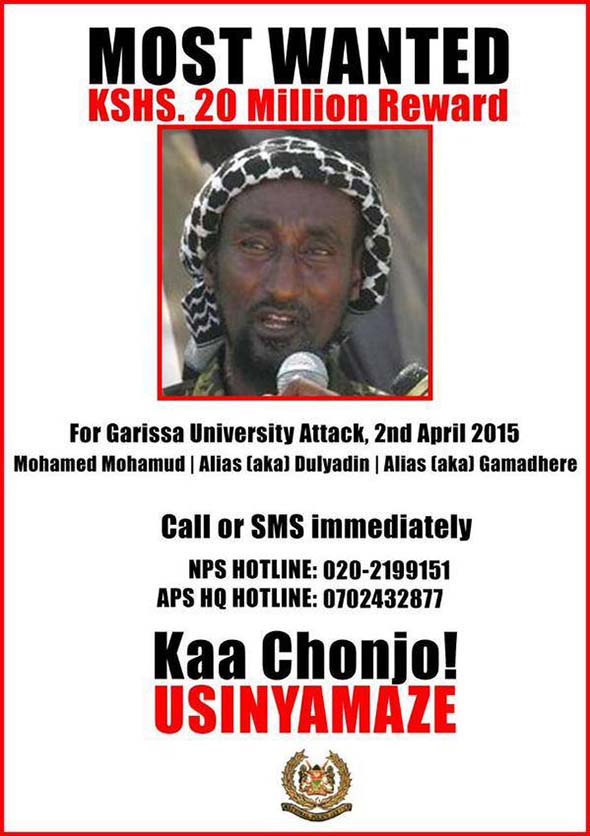 10. A bloodier war ahead
The Al-Shabab militia has pledged a long gruesome war in Kenya if its security troops don't evacuate Somalia.
Leave us a comment on Facebook and Share