What is Tanzania's Diamond Platinumz Love worth?

September 28th is former Miss Tanzania's Wema Sepetu birthday. Why does this matter? Well that is because she is the girlfriend to hard hitting Tanzanian musician Diamond Platinumz. While there were rumors flying around that the two love birds' relationship was heading to the rocks, Diamond used this opportunity to put all the pundits and rumor to rest by giving the lovely Wema a brand new 2007 Nissan Murano as her birthday gift.
While most men would feel quite accomplished by this, Diamond felt that this was not enough for the love of his life and compared it to something small that he had been blessed to have. The musician who has been globetrotting making hits went on to break the news to the world on the Wema's Instagram handle and this is what he had to say.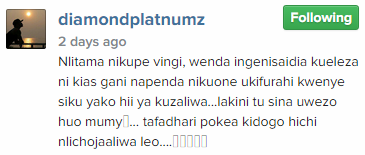 If giving a car to your loved one is a small thing, then you have to wonder what more Diamond is willing to do for his girlfriend. At this rate he might just qualify to be Vera's next "oil tycoon."